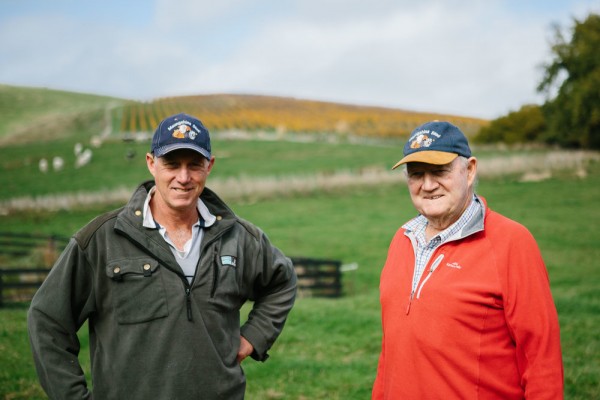 Bruce McKenzie (right) pictured with son Mark, has been acknowledged by the queen for his pioneering work in the beef industry.
There won't be many in New Zealand's cattle industry that don't know who Bruce McKenzie is.

As a highly respected stud beef cattleman his dedication and contribution to the industry was recently recognized by the Queen.

Bruce of the Maungahina Hereford Stud near Masterton was made a Companion of the New Zealand order of Merit (CNZM) for services to the cattle industry on the Queen's Birthday Honours list.

He has been at the forefront of NZs beef farming landscape for decades and is the 4th generation at Maungahina Stud that was established 113 years ago. That family business is now largely in the hands of the 5th and 6th generations with son Mark and his daughter Molly leading the day to day operations.

Bruce has been recognised for his contribution to the genetic development in the primary sector in NZ over the last 50 years. Namely embracing technological advancements in the industry.

Bruce pioneered the importation of different livestock breeds, as well as material such as frozen embryos and semen, which has produced a lasting legacy.

Predominantly raising Herefords, the Maungahina Stud has also innovated with other breeds.
Bruce refined the Charolais breed, creating the Red Charolais, by selecting for the colour variation when he noticed the reds were more productive.

In the last decade the McKenzie's have introduced a new cattle breed, Speckle Park, into New Zealand, which is showing dividends in terms of quality and carcase yield increase.
A large part of his involvement in the cattle industry over the years that's been of particular enjoyment has been cattle judging.

Bruce is a renown cattle judge not just within New Zealand but also around the world.
He earned an international reputation as a leading cattle judge at major events in New Zealand, Australia, Canada, and the United Kingdom.

He was also recently the first non-Angus breeder to be asked to judge at Australia's National Angus Sale.

He has also been willing to share his knowledge and expertise by helping younger generations of cattle judges when he has taken part in coaching schools organised by the Royal Agriculture Society.

Judging not only requires knowledge and being able to quickly assess stock attributes, it requires plenty of care.

He said the key to being a successful judge is learning to be diplomatic and finding something positive to say about each animal.

Bruce said he's honoured to receive the Queen's Birthday recognition and wanted to also give credit to his late wife Jennie who was always a big part of the farm and business.