By Natalie Campbell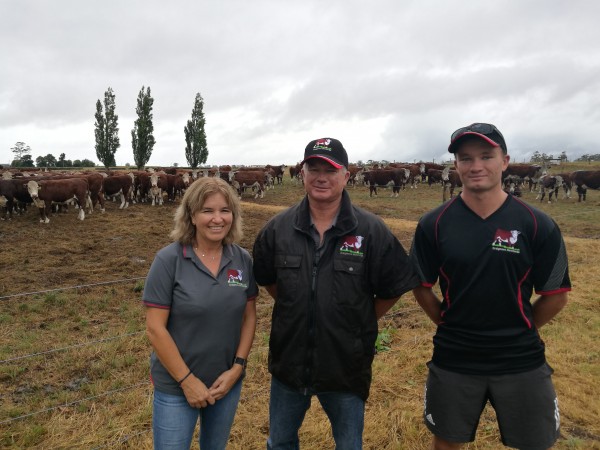 After more than 50 years breeding Herefords the Henderson family of Craigmore Herefords are well qualified in what works for their business and what doesn't.

The 600ha family enterprise at Ohaupo near Hamilton is run by David and Sue Henderson and their son Daniel and they all agree PBB is a great one-stop shop for all their stud business needs.

David says they use the entire suite of services PBB has to offer and it makes a lot of jobs easy – that's everything from genomic testing, to graphic design to tag supply.

With a registered cow herd of 500 and offering more than 100 yearling bulls for sale annually as well as growing maize silage and grain and finishing beef calves from their bull buying clients it's a busy enterprise.

The dairy support maize has been part of the business for 30 years with 80ha grown on contract. Another 17ha of maize is grown for grain, a more recent addition to the farm.

The finishing of progeny from bull-buying clients began about three years ago and allows the Hendersons to measure how their bulls perform in other herds.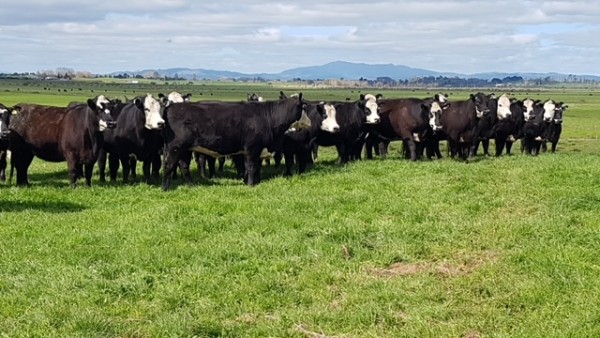 The family are finding the Hereford cross animals are performing better than the black breeds/Angus.
The Craigmore Hereford Stud was established by David's father Bruce in 1970 and with the family now approaching their centenary on the property, David and Sue are proud son Daniel has joined them.
"It's good knowing the farm will carry on in the family."
All Craigmore yearling sale bulls are DNA sampled using PBB and Neogen's 100K SNP profile test. All herd replacement females are SNP tested as well.

"We feel genomics are important. As stud breeders, we want the information to be as accurate as possible and we want our clients to be confident in what they are buying," says David.

The 100K SNP profile includes screening for the horn/poll gene as well as tenderness, genetic conditions and parentage.
David says when a dairy client is purchasing a bull he ideally wants a PCPC screened bull (pure poll), which helps eliminate scurs and the need for dis-budding of calves.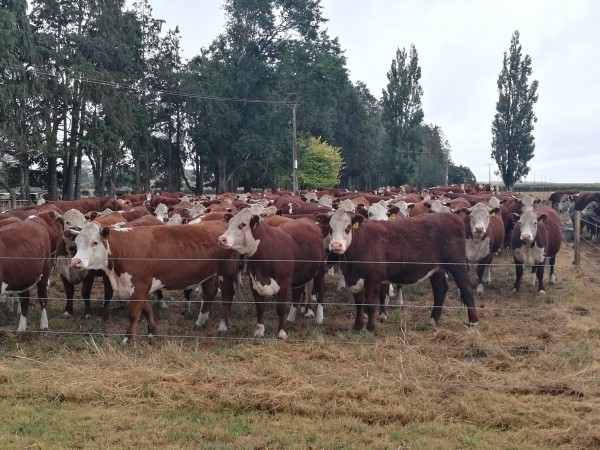 "The 100K test also lifts the accuracy of EBVs, especially as we offer yearling bulls – it means our clients know what they are buying."
All tags, including the Hereford True Blue tag are purchased through PBB along with the TSUs for collecting DNA samples at tagging time.

"We get good service from PBB. They know us and it's easy and convenient and we always get our tags on time," says David.
Offering more than 100 yearling bulls annually, the compilation of the sale catalogue is a big job, however David and Sue agree the team at Pivot Design make it easy.

"We used to do it ourselves and it's so much easier with Pivot doing it now."
While David says they like to do the basics well in their business they are embracing technology on farm and that includes the Stock Book herd management software, available from PBB.

He admits new technology doesn't always come easily but he says with the support of Dale Boat she's keeping them on track with the software and it's easy to use out in the paddock to keep records up to date.
"Technology needs to be beneficial and economic for farmers and PBB offers those things," says David.
"It's important stud breeders keep up with progress and technology and keep their herds moving forward, otherwise we just stagnate," says David.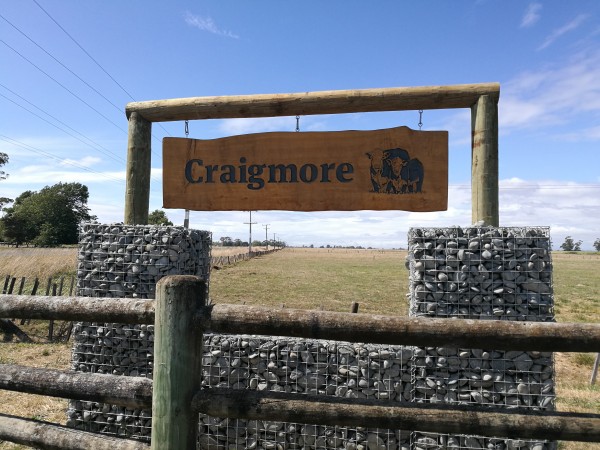 The Hendersons all agree the team at PBB are approachable and helpful.
"They're a one stop shop and it's better than having to access these services from a lot of different places – using PBB for our stud business makes sense and by all breeds being involved and using PBB it keeps services economic."
When it comes to breeding Herefords, David explains the family's goal is to breed a multi-purpose animal. It must be suitable for beef farmers and also be suitable for use in dairy herds over cows and heifers. They also expect their animals to have good carcase traits.
"EBVs help us breed a well-balanced animal to meet the needs of all three markets," he says.

Finding that balance in an animal is what Breedplan is there for, explains David.
He says EBVs are a tool they use in conjunction with eye appraisal.
"We don't want to make decisions without EBVs or rely on them alone. We also want a nice animal that looks great and will perform great – it's why we have eyes and it's why we've got EBV figures."
EBVs of particular importance to the Henderson family are calving ease, 400 day weight and all carcase traits and carcase weight.
"The carcase EBVs tell us what the progeny is going to yield and therefore what you'll be paid," says David.

Any bulls that aren't offered for sale are castrated and finished for local trade. Any females not selected for herd replacements are also finished.
The same selection philosophies are applied when choosing a bull for in herd use.
"We only buy bulls that have had the 100K SNP test – that means we know he's parent verified and it strengthens his EBVs and tells us if he's a genuine polled sire. A PCPC bull is our goal."
"The needs of our clients are in mind when we select a bull," says David.

The Henderson family farm sits on peat which brings with it a unique set of challenges.
Peat is known to be highly productive but it needs to be farmed carefully. Peat soils often require drainage and cultivation to establish productive pastures and crops. But too much drainage can cause peatlands to shrink and as peat shrinks, so too does the fertile top soil.

The Hendersons have a six-year pasture renewal cycle, which includes the maize crops.
Typically, they plant maize for two years followed by an annual grass then back to a perennial pasture once the soil fertility has increased. The Henderson's clear drains regularly to allow water to escape during winter – the organic matter in peat soaks up water making very wet winter conditions.

"We need to keep the pH right and fertility up. Peat shrinks at a rate of about 10-20mm/year – it's breaking down all the time."
This shrinkage brings its own logistics for fences, power poles and other farm infrastructure.
David says fence maintenance is a regular occurrence on their farming calendar due to the movement of peat soils.
"Fences can be pushed over easily by cattle if they're not kept tight because of soil movement."
Droughts are also a regular event and the Henderson's manage it by making up to 1200 bales of baleage each year using their own gear. They also grow 6-12ha of maize for their own use in addition to the 80ha grown for dairy support and the 17ha grown for maize grain.

AS they approach 100 years on the farm the Henderson's are focused on protecting the land and improving it for future generations, with the major steps being the fencing off and riparian planting of waterways.
A 4ha Kahikatea stand has been fenced and under planted with other natives to try and restore that area.
"Those trees are well over 100 years old," says David.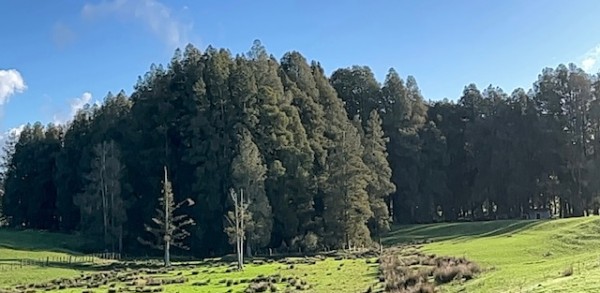 The family have also fenced and protected a peat lake and planted around it. Peat lakes differ from other lakes in that the water is usually a brownish colour due to high levels of dissolved organic matter that leaches from adjoining peat soils. Water in the bottom of a peat lake is usually mildly acidic and low in dissolved oxygen. They often have unique plants and animals that have adapted to cope with their acidic conditions.
David says they don't over use fertilizer and when it is applied it's done using GPS for accurate placement and to keep it out of waterways.

The Henderson's acknowledge reaching 50 years of breeding Herefords is a milestone they're proud of, as is nearly reaching a family centenary on the farm.
"Having Daniel working on farm is great – it's the next generation coming through."

On top of these significant milestones the Hendersons have also enjoyed success in the show and sale ring at Beef Expo with several Craigmore bulls receiving top accolades over the years. They have also sold a pick of the drop heifer for $10,000 at the National Hereford Sale recently as well as recording price tags of $20,000 for yearling bulls at their on-farm sale.
Looking ahead, David says the family aims for continuous improvement.

"We want the farm and the business to get better and better and that's why we're planting and fencing water ways – we want it to be better for everyone."