Does the thought of tailored DNA technical support in real time appeal?
Does only having to make one phone call or simply send an email to action data transfer sound easy?

Is it a priority that the integrity of your DNA data is secure and remains with AngusNZ?
If you answered yes to any of these questions now is the time to make the leap to PBB Neogen DNA services.

Neogen and PBB have a dedicated team of experts who can tailor their support to meet your individual needs.

PBBs Manager of Data and Genetics Megan Ellett says it's never been easier for breeders to make the move to PBB Neogen services and reap the benefits of the Angus GS genotyping platform.

"All it takes is one phone call or a quick email to us and we can help take care of the rest and assist throughout the process."

Data held at other service providers can be accessed or sourced to complete parentage of animals tested through PBB Neogen.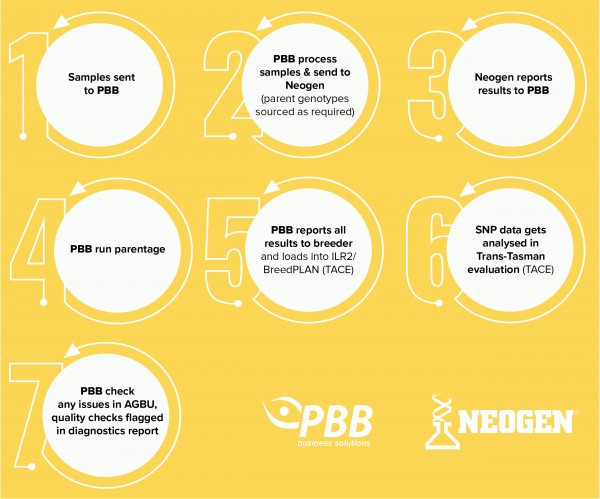 "We can help as much or as little as needed by our DNA clients and will assist them through the permission part of the process where and if required. We can assist over the phone or via a video conference or even in person."

Megan says historically there have been concerns about data integrity and compatibility with the transfer from other service providers but she says that's been taken care of thanks to the PBB TREE parentage system.

DNA profiles from all service providers is stored in TREE to be included in parent verification. The TREE parentage system is a program designed by Theta Solutions which was chosen by PBB to manage data from multiple labs and provide more accuracy when it comes to parent verification.
Once results return from Neogen and the parentage has been run, the PBB DNA team load the results into ILR2/BREEDPLAN (TACE).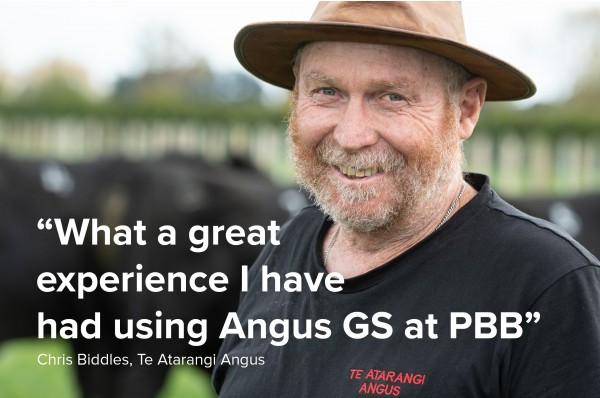 "What a great experience I have had using Angus GS at PBB. It's easy and I know my data is secure and highly accurate. When using the high density profiles it improves the accuracy and confidence I have in the results. It captures increased accuracy on genetic potential - equivalent to a lifetime of production - before I select replacement females. This accuracy, combined with the speed of reporting and the fact it's all done through PBB, who I know I can rely on to load all of my results into BreedPLAN (TACE), makes me happy! It's really easy. If you're not already using the Angus GS DNA profile, I'd be asking why not?"
Chris Biddles, Te Atarangi Angus, Northland.
Dr van As says the Angus GS genotyping platform is designed for seedstock cattle and assesses their genetic makeup at thousands of locations across the animal's genome (known as SNPs or single nucleotide polymorphisms), with the resulting genomic information incorporated into the TransTasman Angus Cattle Evaluation (TACE) to calculate Estimated Breeding Values (EBVs) for a range of economically important traits.

"The bonus of the Angus GS platform is, it was developed in partnership with Angus NZ specifically for Angus breeders and it offers superior accuracy," he says.

"The new content, representing an increase in density from 49,000 to 72,000 SNPs, includes the addition of markers that are particularly relevant to the economically important traits of calving ease, birth weight, marbling and female fertility. This additional content includes SNPs that have never been part of any commercial genotyping test until now."

"The Angus GS DNA test is designed for Angus, by Angus." Dr van As says.
Click here to request your DNA data be transferred to PBB/Neogen